If you and your kids want to play safe yet challenging and fun, the Amazonia Singapore is ready to give some extremely exciting experience! Located in Singapore, near the lovely and famous Orchard Road, this place is considered as one of many tourists attractions in Singapore. If you feel worried to bring your kids to an outdoor playground because of some reason, then here in Amazonia, the playground is indoor and is all yours.
The Amazonia Singapore image source: expatliving.sg
The Best One
Children and families can all enjoy to dine and to play, spending their quality time together as they also watch toddler to play in their own room. Amazonia, as less scary as it sounds, is a place to pour your fantasy about being in an amazon in 9500 square feet air condition facility. Located inside the mall, you can go to this place from 10 am to 10 pm. Make sure that you bring all your families to go to this one of the best indoor
amusement park in Singapore
.
The Amazonia Singapore image source: amazoniafun.com
The Games
Even though the place is indoor, it does not even make it less fun. Even more, this is so much fun with the rural and paintings in themed of pre historic era. This can be educative too as you explain those animals back then in the histories. The games are various too. They are allowed for certain ages so you will not have to worry to get your kids in trouble. There are some games such as 3D Glow Golf, the Jungle Play Gym, the Space Ball, and also the Toddler play.
Functional Occasions
If you have another interesting in mind to celebrate your kids' party, then this place of Amazonia is one of a kind. They have a package where you can choose the themes and the menu. There are at least 4 themes so far you and your kids can choose. They include Laser Tag Party, Solenoe Party, Magic Party, and Classic Party. With all the thematic and satisfying services, you can trust Amazonia to set all up and find the smiles behind the kids you are about to bring!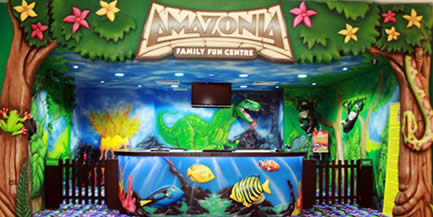 The Amazonia Singapore image source: singpromos.com
The Amazonia is surely great choice to choose. Besides the facility, it is also near the center of Singapore, remembering the fact that you can just right away go to other tourist attraction by just stepping out of Amazonia.
The Amazonia Singapore
is your family's and children's best place to meet!